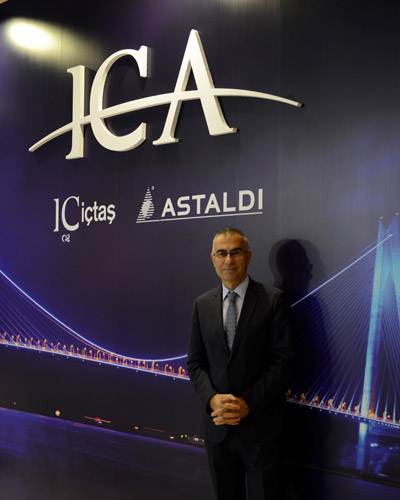 ICA joined Transist 2017 International İstanbul Transport Congress and Exhibition where guests were informed on the location, route, operation period and benefits of Yavuz Sultan Selim Bridge and Northern Marmara Highway.
ICA, an IC İçtaş Construction - Astaldi consortium, took part at the 10th edition of Transist 2017 International Istanbul Transport Congress and Exhibition, promoted by Istanbul Metropolitan Municipality, under the main theme of "Innovation, Integration, Information Systems and Business Intelligence in Public Transportation", where visitors were informed on Yavuz Sultan Selim Bridge and Northern Marmara Highway, of which the construction and operation have been undertaken by ICA. Held at Lütfi Kırdar Rumeli Hall, ICEC and Istanbul Congress Center, ICC from 2 to 4 November 2017, the exhibition inaugurated with an opening speech from Mr. Ahmet Arslan the Minister of Transportation, Maritime and Communications.
"We work 24/7 for safe and comfortable trips"

The exhibition aims to offer a platform of information exchange between local administrations, industry and exhibitors in order to communicate the most recent technologies and strategies in transport field. "With Yavuz Sultan Selim Bridge and Northern Marmara Highway, we are among the first private highway operators in Turkey," said ICA General Manager Atilla Gökçe. "Our goal is to offer safe and comfortable trips to passengers thanks to our high operation quality. To that end, we equipped the highway with smart transportation systems, high-tech maintenance equipment and fee collection systems. Our staff of over thousand experienced, well-equipped and cautious professionals, traffic patrol and maintenance teams work on 24/7 basis to offer safe and comfortable trips. The entire route is monitored 24/7 with giant screens and cameras from the Main Control Center located at the operation building. Traffic management and maintenance services, cleaning and first-response operations in case of accident at the bridge and highway are carried out throughout the year."
Business and shopping centers are now closer to social life
Mr. Gökçe provided information of the route of the bridge and highway. He said, "Yavuz Sultan Selim Bridge and Northern Marmara Highway is bringing Atatürk Airport on the European Side and Sabiha Gökçen Airport on the Asian side closer. It also serves a bridge between business and shopping centers and social life of Istanbul. In particular, with the inauguration of Pasakoy-Mecidiye section of the road in July enabled this. The Northern Ring Motorway is on the route of Access road to the 3rd Airport soon-to-be-built in Istanbul, making all three airports of the city more accessible."
Bi' Mola Stopovers offer free charging stations for e-vehicles
The Northern Marmara Highway offers Bİ' MOLA stopovers and gas stations where passengers take a break and get quality services including free charging stations for e-vehicles along with other services offered in partnership with leading companies. ICA promotes e-vehicle usage and environmental-friendly solutions, resulting in free charging station service offered to all e-car owners.
During the three-day exhibition, ICA informed visitors on YSS Koprusu corporate mobile application and services offered on the corporate website http://www.ysskoprusuveotoyolu.com.tr developed for passengers and vehicles using Yavuz Sultan Selim Bridge and Northern Marmara Highway.
About ICA

IC İçtaş İnşaat which became the flagship of IC İbrahim Çeçen Yatırım Holding A.Ş. and successfully implements major projects both at home and abroad, and Astaldi which is among the leading construction companies around the world joined forces to establish ICA which in turn implements seemingly impossible projects pushing the boundaries of modern engineering techniques, thanks to its international experience. ICA which has carried both architecture and engineering projects, going beyond global standards, strives to add new successful projects to its portfolio with its dynamic organization structure, its synergy and its professional employees each of whom are experts in their respective fields..
The portfolio of ICA includes the Expansion of St. Petersburg Pulkovo Airport Project which was completed in 2015, Yavuz Sultan Selim Bridge and Northern Marmara Highway Project which was commissioned in August 2016, and St. Petersburg The Western High-Speed Diameter (WHSD) Project which commissioned in December 2016.
Today, ICA is working with full speed on the M11 Highway Project which is one of the most important transportation investments as part of the preparations for 2018 FIFA World Cup, and which will connect Moscow, the capital city of the Russian Federation and St. Petersburg, one of its most important cities. ICA is also operating Yavuz Sultan Selim Bridge and the Northern Marmara Highway Project.