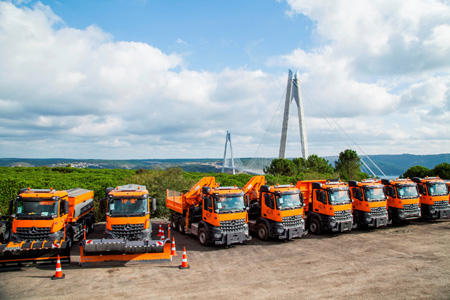 Yavuz Sultan Selim Bridge and Northern Ring Motorway has concluded its preparations to provide comfortable and safe passage for drivers during winter and snowy weather. Operating company ICA will provide 7/24 service during winter with its team of experts and high technology equipment. Motorway Emergency Help Line at Number 161 will also provide continuous service.
Preparations are concluded at Yavuz Sultan Selim Bridge and Northern Ring Motorway with the coordination of AKOM and General Directorate of Meteorology to ensure that drivers will not get adversely affected by the winter conditions which are expected to be felt in Istanbul in the following days. With Icing Early Warning System and traffic control camera systems, preparations are continuously carried out at the bridge and motorway with the coordination of Istanbul Metropolitan Municipality (IBB) and General Directorate of Highways (KGM).
As part of the preparations, asphalt temperature measurements are carried out with high technology winter service vehicles and preventive salting works are carried out to protect the road against freezing without waiting for snow or icing to occur.
As part of the Corrective Works, snow removal trucks and snow removal team keeps the road 7/24 open. With these works, road is protected from freezing and with continuous rings, roads are maintained until the freezing risk is eliminated.
161 Motorway Help Line provides service 7/24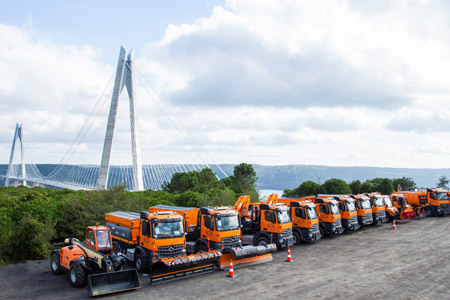 In addition to snow removal and salting vehicles, cranes that have the ability to tow will be stationed at critical points of every 10 kilometers of motorway and in case of an accident, will be directed without disrupting the traffic flow. Other than maintenance teams, there are also patrol teams and equipment stationed at the Northern Ring Motorway route 7/24 to ensure Traffic Safety. Through caution plates located in these vehicles and digital notifications given from VMS panels located on the motorway, any kind of risks that affect road safety is intended to be eliminated.
Drivers can call the Motorway Emergency Help Line at number 161 free of charge and any time of the week to get help in case of a breakdown, accident, fire and similar situations while driving on the motorway.
ICA Main Control Center keeps track 7/24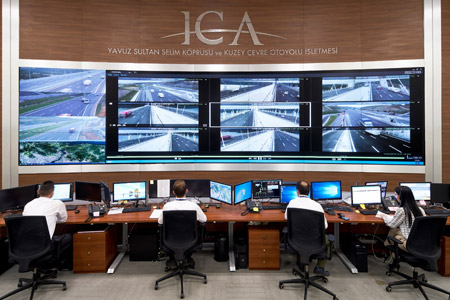 All of the route and bridge crossings at Yavuz Sultan Selim Bridge and Northern Ring Motorway is managed by the Main Control Center located in the ICA operating building and in case of a need, drivers can be interfered. With the help of the GPS system present in the vehicles specifically designed for snow service; all data relating to temperature/heat detection, speed, discharged/sprayed material amount and material kind, remaining amount, distance driven is available both to the driver operator and the Main Control Center through data network accessible at any given time.
Also with the new meteorology station, weather conditions is tracked 7/24 and precautions are taken immediately according to the measurements.

Effective solutions are provided in short time with the high quality equipment
Yavuz Sultan Selim Bridge and Northern Ring Motorway which is equipped with high technology maintenance team and equipment also has specifically designed snow service vehicles. Vehicles mounted with Solution Tank and Spraying Equipment is capable of immediate response to the motorway.
ABOUT ICA
ICA was founded by joint venture of IC Ictas Insaat which has carried out massive projects successfully both in our country and abroad, and Astaldi which is one of the leading construction companies in the world, to implement seemingly impossible projects by pushing the boundaries of modern engineering techniques through its international experience. ICA which carried out both architectural and engineering projects beyond world standards, works towards continuing its success in the future through its dynamic organization structure, its synergy and its employees who are professionals in their fields.
Extension of St. Petersburg Pulkovo Airport which was concluded in 2015, Yavuz Sultan Selim Bridge and Northern Ring Motorway Project which was opened in August, 2016 and St. Petersburg Western High-Speed Diameter (WHSD) which was commissioned in December 2016 are among the projects that ICA has carried out.
Today ICA is rapidly continuing the M11 Motorway Project which is one of the major transportation investments in preparation for the 2018 FIFA World Cup and will connect Moscow, the capital of Russian Federation with the country's one of the most important cities, St. Petersburg. Also IKA consortium which ICA is part of, is working on the Menemen-Aliaga-Candarlı Motorway project which will connect Izmir's one of the leading districts in terms of industry and trade, Aliaga to Candarli Port.